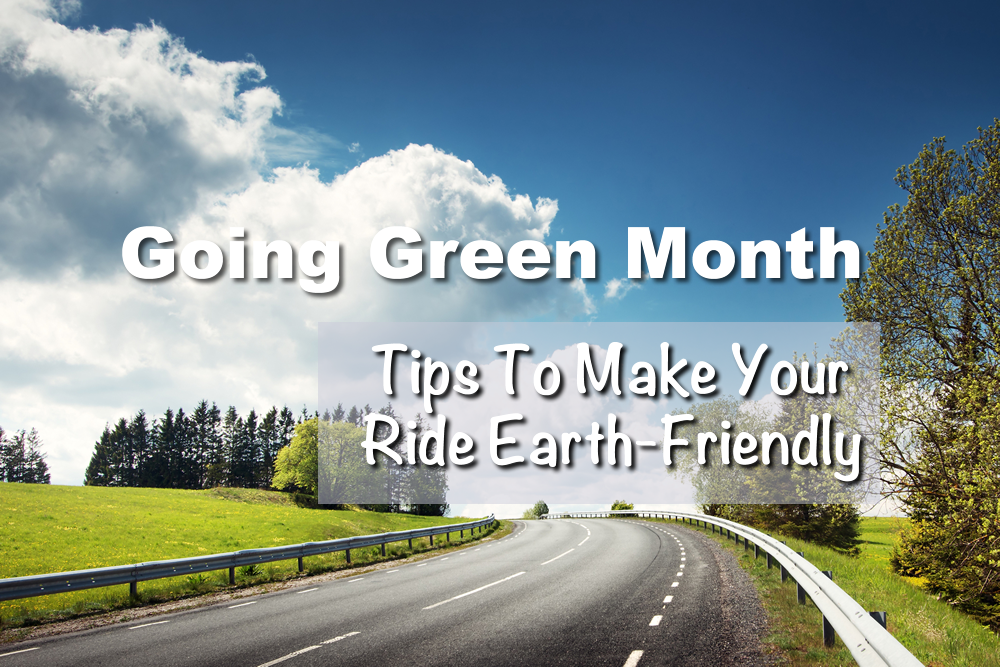 Got a long to-do list for spring? Put your vehicle on the list, too.
We've got some tips to "go green" this spring--practical suggestions for eco-conscious car care.
Waterless washing products. Live in an area prone to drought or water rationing? You already know how difficult it is to keep your car looking sharp.
Fortunately, waterless washing products and some helpful accessories can help restore your vehicle's appearance. Instant detailers or waterless wash and waxes are becoming more readily available and are ideal for cleaning up trouble spots on the go.
A bottle of waterless wash or an instant detailer with a microfiber towel lifts off debris and contaminants.
Hose nozzle. Reduce the amount of water needed to keep your ride clean. Instead of letting the hose just run unabated, get a hose nozzle designed for car care.
Nozzles designed for car care have multiple settings intended for different tasks--jet for spraying off caked mud, cone spray for wheels and mist setting for windows.
A nozzle with an aluminum body and internal components made of steel will last for years. Bonus: A nozzle covered in rubber protects the vehicle's paint from accidental hits.
Reusable, Insulated drinking vessel. Having your own insulated mug can dramatically cut down on waste created by disposable coffee cups and lids.
These reusable, low-maintenance vessels resist bacteria growth as well. Germs and bacteria can accumulate over time if the bottle isn't properly cleaned routinely, however.
The ingenious design of an insulated bottles places a vacuum between the interior and exterior walls of the vessel. The barrier keeps hot beverages hot and cold beverages cold.
The exterior wall of the vessel isn't affected by the temperature of what's inside. Even if you've filled it with boiling water, the exterior remains cool to the touch. And the inverse is true for frosty beverages. Even the iciest beverages can't make an insulated bottle sweat from condensation.
Get a synthetic oil change. Synthetic oils last longer than conventional, and can extend the time you need between oil changes.
Get a multipoint inspection. Get a thorough inspection of your vehicle to ensure it's running as efficiently as possible.
Check your tire pressure. Months of winter cold can cause air to slowly escape your tires. Set your tire pressure to the manufacturer's recommended setting. Properly inflated tires not only last longer, they provide improved fuel economy. Don't forget to check the spare.
Here are some suggestions for improving mileage, courtesy John Thomas, of the Oak Ridge National Laboratory's Energy and Transportation Science Division:
Leave the windows up. Driving with all four windows down decreases fuel economy by as much as 8.5 percent (depending on vehicle type and engine size).
Carrying extra weight drains gas. Towing a 3,500-pound enclosed cargo trailer resulted in fuel economy penalties ranging from 30 percent in city driving to 50 percent at 80 mph for the test SUV.
Slow and steady gets the best economy. The best fuel economies were achieved at a constant speed of 40 mph for the test sedan with 57.5 mpg and 50 mph for the test SUV with 29.5 mpg.
Keep the tires inflated. Low tire pressure (50 and 75 percent of the manufacturer recommendation) can reduce fuel economy by up to 10 percent.
Hybrids can burn gas, too. Hybrid vehicles speeding down the freeway operate on their gas engines and not battery energy. As a result, fuel economy rules apply the same as for traditional gasoline-powered vehicles.
Think about storage. Boxes and suitcases strapped to the top of a vehicle increase wind resistance. Consider using an aerodynamic cargo carrier.